4 May (Saturday) I Workshop 5 - "A Plastic Ocean" Movie Screening x "Know More Plastic" Workshop
Date

4 May 2019 (Saturday)

Activity

Our interactive activity and you will know:

how to identify 7 types of plastic

which types of plastic could be recycled

the global effects of plastic pollution and innovative solutions that everyone can do

A Plastic Ocean is a new award-winning feature length documentary by a group of dedicated scientists, film-makers, social entrepreneurs, scholars, environmentalists and journalists, that explores the fragile state of our oceans and uncovers alarming truths about the consequences of our disposable lifestyle. It documents the global effects of plastic pollution and highlights workable technologies and innovative solutions that everyone - from governments to individuals - can do, to create a cleaner and greener ocean. All rights reserved by Plastic Oceans Limited in Hong Kong. 
27 April I Workshop 4 - Sustainable & Creative Wrapping of Furoshiki
A Furoshiki is included!
Date

27 April 2019

Activity

Discover a fun, creative and eco friendly Japanese art to wrap and carry almost everything: the Furoshiki. You will never look at a square of fabric in the same way!



You will learn how to use a square of fabric in a dozen different way : to wrap a gift, books, bottles, cover a tissue box and also make different kind of bag ! And you will also know more about the history of this ancient Japanese Art.

20 April I Workshop 3 - Make an Easter Chick Plantable Pot from Egg Cartons
Date

20 April 2019

Activity

Do some fun hands-on learning during the Easter holiday! 

Join our workshop and learn how to upcycle egg cartons into plantable pot.

Bring your own container (BYOC) and get 100g of chocolate for free!
 

30-31 March I Workshop 2 - Make an Egg Carton Flowers or Easter Chick!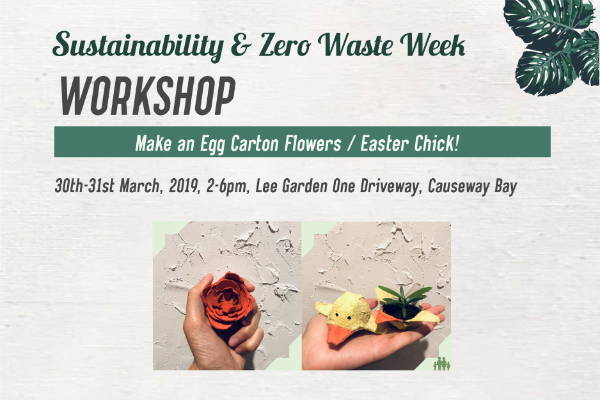 | | |
| --- | --- |
| Date | 30-31 Mar 2019 |
| Activity | Make a beautiful egg carton flowers/ chicken recycled cart project with kids, in conjunction with "Eggssentially Art" by Lee Garden Association |

27 March I Workshop 1 - DIY Composting Workshop by Hong Kong Community Composting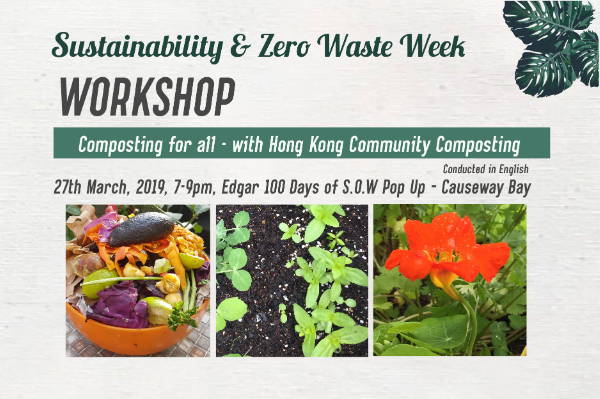 | | |
| --- | --- |
| Date | 27 Mar 2019 |
| Activity | Spend an evening with Hong Kong Community Composting (HKCC) to learn all about composting options in Hong Kong. The workshop will teach participants simple solutions for their home, whether they have a balcony, rooftop, or a small indoor space. HKCC will also include an Introduction to their Community Composting drop-off bins in case you are time-crunched and need a simple solution. |